Rejoice! Organ and Voice
September 10, 2023 | 4:00 PM
Trinity Lutheran Church | 527 Washington Street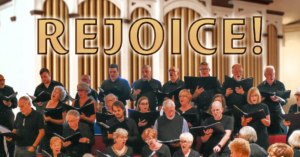 In the fine tradition of Fall Festival of the Arts, this year's Fall Festival Chorus is made up of singers, conductors and organists from around Berks County and beyond.
Dr. Derrick L. Thompson, Dr. David McConnell, James Wilson, Karen Eddinger and David Himes conduct the Fall Festival Chorus in a rousing collection of pieces for organ and chorus. The pieces are at times big and bombastic, mysterious and brooding, fast and rhythmic and calm and soothing. There are several British composers featured; Benjamin Britten, Herbert Howells and William Mathias and also pieces by Cesar Franck, John Ness Beck and David Himes.
Karen Eddinger and James Wilson will be featured on Trinity's organ, along with two new, young organists Ethan Draper and Jacqueline Wilson.
Ticketed Event | $20 Adults; $10 Students